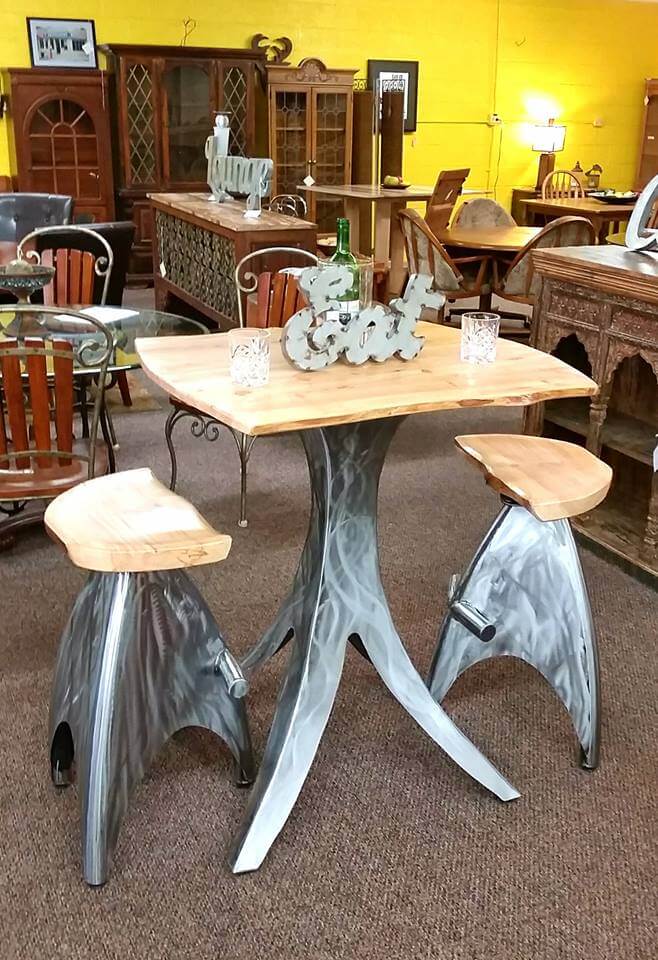 Platte Furniture features Colorado Springs artisans, helping them do what they love,  make more furniture and decor. And here at Colorado Springs Sawmill when we're not milling locally harvested logs, we do just that. We make modern-rustic furniture fixture, fixtures and decor. But we lease space in an old pallet mill and until just recently we haven't had a showroom to share our works.
Platte Furniture has over 36,000 square foot of space to show locally hand-made and gently used furniture and more.
When you realize how many salvageable trees we still have up there on that hillside from 2012 Waldo Canyon Fire, then you head over to Black Forest and see how much burnt timber is there, adding into that equation the number of trees our City of Colorado Springs Forestry Department cuts down all around town on an annual basis, you begin to realize how much local wood resources we have to make just about anything you can imagine. Now we need more businesses like Platte Furniture to help us market locally made items! ~Colorado Springs Artist Mitchell Dillman
Watch Metal. Art. Platte Furniture.
Family owned and operated since 1978, Platte Furniture works with local craftsmen and women to help give them an outlet to sell their works.
Whether it's a farm house table, a unique coffee table, a live edge table, or all types of reclaimed wood, we've got at least four or five individual artisans who bring us locally crafted furniture on a weekly to monthly basis. One-of-a-kind furniture made right here in Colorado Springs is the best. ~Kyle Kelly General Manager at Platte Furniture
Watch Welcome to Platte Furnitre
Click on the business card below now and learn more!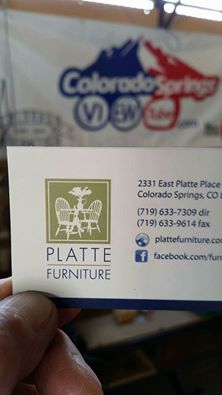 In addition to purchasing from local artisans and craftspeople, Platte Furniture is constantly updating its inventory through estate sales and "treasure hunting." They selectively buy furniture that comes from Model Homes, Overstock Closeouts, estates, auctions and private homes as well. And with 36,000 square feet of floor space they can buy in large quantities giving you the best selection of furniture in town!
Tell them we sent you!
Call Platte Furniture for more details (719) 633-7309
2331 E. Platte Pl.
Colorado Springs, CO 80909
Office Hours: M-F (9am – 5:30pm)
Sat (9am – 5pm), Sun (Closed)
Watch Metal Art Furniture Bar Table

Watch Metal Art Furniture Bar Stool
Thanks for watching! Post any questions or comments in the space below and when looking for furniture in Colorado Springs go to Platte Furniture!